Château Barbebelle is one of the oldest estates in the Coteaux d'Aix-en-Provence appellation. Evidence of farming dates back to Roman times and the château itself dates to the 16th century.
The winery has been owned by the same family for four generations. Madeleine Premmereur (née Herbeau), 30 years old, took the reins from her father five years ago and, today, works with her father and husband to produce a range of award-winning wines.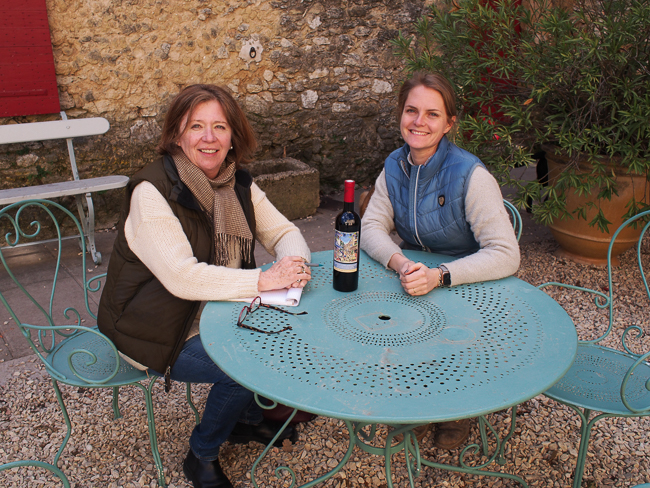 It is a gorgeous property comprising 740 acres, one sixth of which is devoted to vines, grown with great care while practicing sustainable agriculture (agriculture raisonnée). The terroir is characterized by clay-limestone hillsides that reach 1200 feet and enjoy the benefits of the Provençal sun and the mistral wind.
Cuvée Madeleine (2017) Red is a well-integrated blend of Grenache, Syrah, and Cabernet Sauvignon from the estate's best vines. The grapes, picked in early fall 2017, go through a long maceration, followed by fermentation and élevage in traditional Provençal concrete vats, and bottling in January 2020.
A lovely array of earthy and black fruit aromas intermingles with notes of garrigue, cherry, and raspberries and wafts from the glass. A very appealing palate dominated by blackberry and licorice.
An enjoyable year-round red that will work as an apéritif with charcuterie or an accompaniment to grilled meat, burgers, pizza, barbecued chicken, or spicy salmon. Ideally, open and decant this wine for a couple of hours for maximum enjoyment!
Cheers! Santé

IMPORTANT NOTE: We are bowled over by the success of À Table — we have temporarily run out of what's come to be called "Alex's wine," but the importer assures us that more Château Barbebelle Cuvée Madeleine (2017) Rouge is on its way, somewhere on the Atlantic Ocean as I write. Early October is the anticipated arrival.
If you would like to place your name on the wait list, please click here.
In the meantime, to keep the momentum going, Acquiesce Winery in Lodi, California offered to donate to The Alex Manfull Memorial Fund the proceeds from the sales of a generous number of cases of her absolutely fabulous (2018) Picpoul Blanc wine. To learn more about Acquiesce wine, please click here or to order wine click here.
By the way, shipping of up to 11 bottles of this Acquiesce wine is just $15 and shipping is FREE if you buy a case. Each bottle is $28.00. Each bottle comes with a card with information about PANDAS/PANS and the story of À Table! (Click here to see photo of the wine and card.)