---
SOLD OUT! Thank you to Sue and Rodney Tipton for their generous support of the À Table project and thank you to all those who supported this awareness project by purchasing Acquiesce's wonderful Picpoul wine
Susan and Towny Manfull
---
Susan Manfull first met Susan Tipton, winemaker and co-owner with her husband, in August, 2016 at Acquiesce Winery in Lodi, California. (I know…who goes to Lodi in August?!) Manfull fell in love with Tipton's outstanding Rhone-style white wines. Acquiesce Winery is a predominantly white wine winery, unusual anywhere in the United States, and down-right weird in Lodi, especially ten years ago when they released their first wines.
We are so fortunate to be able to offer this wine to you — when we ran out of the Chateau Barbebelle cuvee Madeleine Rouge, the Tiptons stepped up and graciously donated her fabulous (2018) Picpoul Blanc to keep our momentum going. We are so grateful to the Tiptons for this exceptionally generous donation.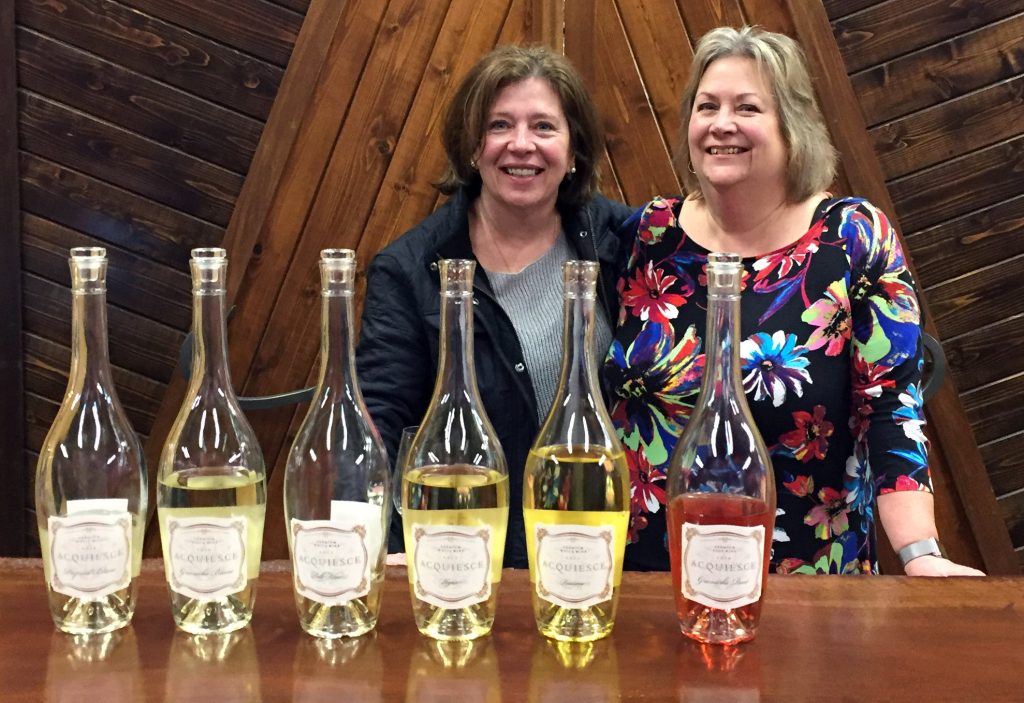 ---
2018 Picpoul Blanc
Double Gold Medal -International Women's Wine Competition 2019
Gold Medal – Sunset International Wine Competition 2019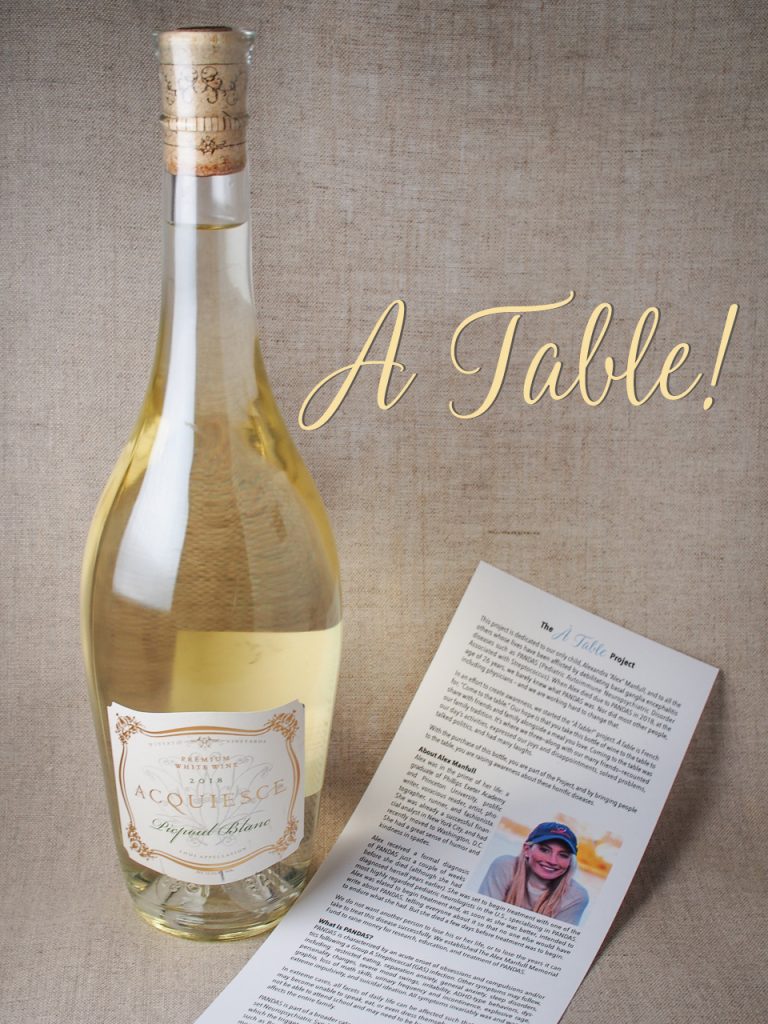 Picpoul Blanc is grape variety thought to be native to the South of France where the vast majority of the world's Picpoul is grown. It is one of the thirteen varieties permitted in Châteauneuf-du-Pape. A few cutting-edge California wine producers – especially those who gravitate toward Rhône style wines – have started planting this variety with tremendous success. As they say, the proof is in the bottle!

Susan first planted 100 vines of Picpoul in 2011. These vines were sourced from the storied Château Beaucastel in the Southern Rhône Valley, via the highly regarded Tablas Creek Vineyard in Paso Robles, California. The 2018 Picpoul from Acquiesce Winery and Vineyards is laden with Gold Medals. Understandably. It lives up to its name, translated to "lip stinger," with plenty of crisp acidity along with flavors of apple and pear with hints of lemon. The nose is fresh and minerally.

Beautifully structured and perfectly balanced wines are Susan's trademarks and clearly evident here.
This Picpoul is welcome as an apéritif with oysters, mussels and even charcuterie or an accompaniment to grilled tuna, ceviche, salad or Thai food (with lots of cilantro!)
Please visit Acquiesce Winery to discover the other special wines crafted by Sue Tipton… https://www.acquiescevineyards.com/