À Table! is one of our major campaigns to raise awareness about PANDAS (Pediatric Autoimmune Neuropsychiatric Disorder Associated with Streptococcus), a type of basal ganglia encephalitis triggered by strep and characterized by neuropsychiatric symptoms. Our hope is that you take this bottle of wine to the table (or other type of gathering) to share with friends and family. Coming to the table was our family tradition. It's where we three – along with many of our friends and family – recounted our day's activities, expressed our joys and our disappointments, solved problems, talked politics, and had many laughs.
We hope the bottle engenders conversation lively conversation at your table, too. We hope that you are moved to raise your glasses and toast to our daughter Alex and to all others who are struggling with PANDAS with the commitment to spread the word about PANDAS and the broader disorder, PANS (Pediatric Acute-onset Neuropsychiatric Syndrome).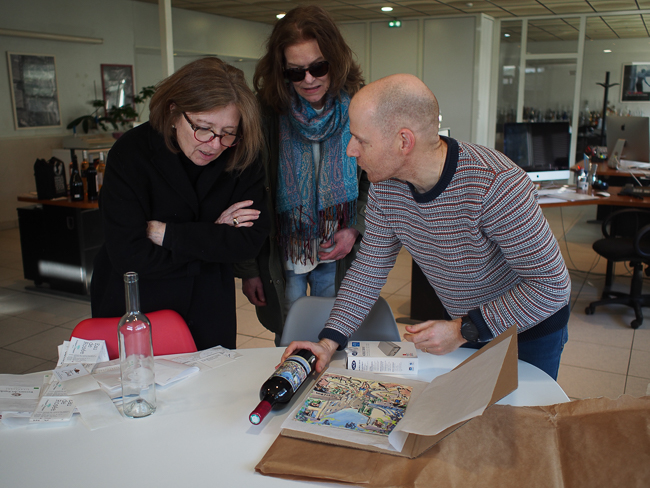 We are asking everyone to send a photo of their toast to us (send to susan@alexmanfullwineproject.org ) which we will post on Alex's birthday, September 7th (on Instagram @TheAlexManfullMemorialFund and on the website at www.alexmanfullwineproject.org). We will continue to post photos through October 9, 2020 which is PANDAS Awareness Day. Please help us with this project. (The toast can be with cups of tea or glasses of water –whatever you are drinking!)
Originally, À Table! included a two-pronged approach to raising awareness about PANDAS and PANS. One prong involved fund-raising dinner parties to be hosted by friends and family around the U.S. (and beyond). We had already planned with hosts around the United States and beyond, including France, Sweden, Morocco, and Canada. The idea was that the wine would be served at the dinners, sparking conversations and awareness about PANDAS and PANS. That is, guests would learn about PANDAS and PANS à table and then return home with bottles to share with their friends, thereby continuing to spread the word about PANDAS and PANS.
We had to scrap the hosted-dinner part of the plan when COVID-19 raised its ugly head and a full-fledged pandemic ensued, keeping most of us tethered to our own tables. We hope we will be able to carry out this part of the campaign in the not-too-distant future. (Please let us know if you would like more information about hosting an À Table! dinner in the future.)
Proceeds from À Table! will go toward research in this area. Please visit: TheAlexManfullMemorialFund.com 
À Table! was conceived in Lourmarin, a tiny village in Provence, and matured in Portsmouth, New Hampshire, where Alex was born and raised. We are indebted to many people who made this happen:
• Gérard & Christine Isirdi, owners of the Isirdi Gallery in Lourmarin. Gérard painted the image that became the label.
• Madeleine Premmereur, owner of Château Barbebelle.
• Jacques Navarre who was instrumental in importing the wine.
• Martin Kolk, President of Vinilandia NH, a local wine and spirits distributor.
• Rick & Robin Meyerkopf, owners of South Street and Vine in Portsmouth, NH.
• Hervé Giustiniani, owner of De la Cuisine Au 20, wine and épicerie in Lourmarin.
• Susan Kress Hamilton, co-owner of Phineas Press in Portsmouth, NH, who designed the lower label and this booklet.