Château Barbebelle is one of the oldest estates in the Coteaux d'Aix-en-Provence appellation. Evidence of farming dates back to Roman times and the château itself dates to the 16th century.
The winery has been owned by the same family for four generations. Madeleine Premmereur (née Herbeau), 30 years old, took the reins from her father five years ago and, today, works with her father and husband to produce a range of award-winning wines.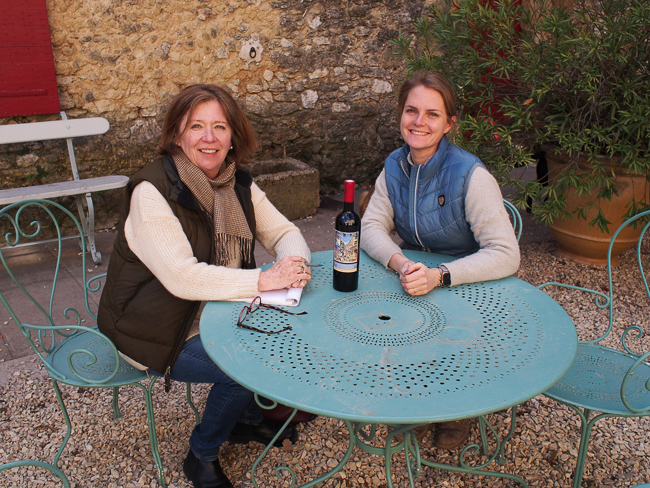 It is a gorgeous property comprising 740 acres, one sixth of which is devoted to vines, grown with great care while practicing sustainable agriculture (agriculture raisonnée). The terroir is characterized by clay-limestone hillsides that reach 1200 feet and enjoy the benefits of the Provençal sun and the mistral wind.
Cuvée Madeleine (2017) Red is a well-integrated blend of Grenache, Syrah, and Cabernet Sauvignon from the estate's best vines. The grapes, picked in early fall 2017, go through a long maceration, followed by fermentation and élevage in traditional Provençal concrete vats, and bottling in January 2020.
A lovely array of earthy and black fruit aromas intermingles with notes of garrigue, cherry, and raspberries and wafts from the glass. A very appealing palate dominated by blackberry and licorice.
An enjoyable year-round red that will work as an apéritif with charcuterie or an accompaniment to grilled meat, burgers, pizza, barbecued chicken, or spicy salmon. Ideally, open and decant this wine for a couple of hours for maximum enjoyment!
Cheers! Santé

Château Barbebelle (2017) Cuvée Madeleine Rouge wine – affectionately known as "Alex's wine" – is back in the States!

Here are the details….
If you live in the Boston area – we are thrilled to report that the wine is now available for sale at The Cork Stop at 1593 Osgood Street, North Andover, MA. The Cork Stop will deliver to most communities in the Boston area; please call (978) 655-8699 to inquire about delivery options. Or, pop in to pick up a bottle and see their highly curated selection of wines!
If you live outside the Boston area – we are very excited to tell you that the wine can be shipped through The Cork Stop's online store, Urban Wine Club. The wine will be sent to you via FedEx (assuming your state allows for home wine delivery). To order your wine online, please visit www.urbanwineclub.co
Alex's wine makes a lovely holiday gift…and you will be contributing to our awareness campaign by sharing this bottle with others!

Your wine purchase is not tax deductible but proceeds from the sale of this wine will be donated to The Alex Manfull Memorial Fund . Proceeds from this campaign will support brain research in PANDAS/PANS (also referred to as basal ganglia encephalitis).